// Multi-Cloud Single Pane of Glass
TechCelerated's customer portal is a single pane of glass to monitor, alert, and prevent potential risks across cloud platforms and ISV tools, and provides insights into the health of your overall cloud operations, security governance, and FinOps.

Scan your cloud for unusual activity, red flags

Improve Availability & Achieve 100% Uptime

Reduce Cloud Costs & Maximize ROI

Assess Security & Compliance
// Real-Time Cloud Management Portal
TechCelerated's customer portal allows customers to gain insights into their cloud operations, verify how things are running from a security, operations, and cost perspective, and interact with their team at TechCelerated via customized alerting and notification and our JIRA collaboration suite.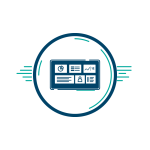 // Learn More
Talk to a Cloud Expert
TechCelerated is a leading provider of platform driven cloud operations for AWS and Azure. Contact us today to learn how we can help you onboard to the cloud more efficiently, operate reliably with elevated security, and optimize as you scale.