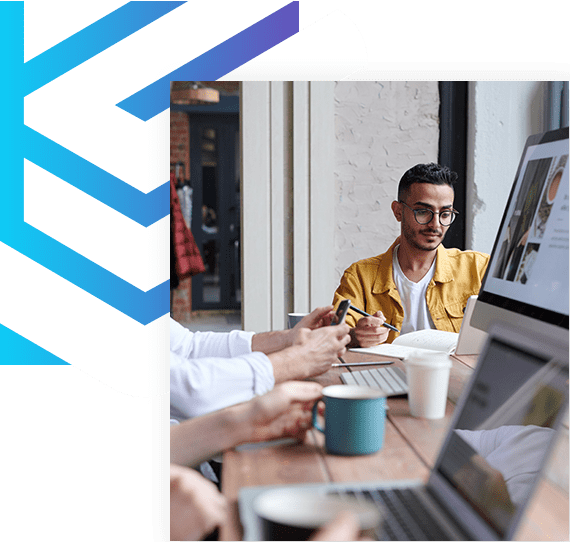 Your dedicated project manager keeps you apprised on project progress every step of the way, ensuring timely delivery and a single point of contact throughout the migration.
TechCelerated's well-established knowledge transfer process lets your IT team easily pick up where we end or, to get the most value from your cloud migration, engage TechCelerated's cloud managed services for ongoing management, optimization and modernization.
// about service
We Provide Best
Web Development
TechCelerated's expert teams always begin with meticulous discovery, well-defined technical designs and a pragmatic migration plan. Because, to avoid surprises, planning is essential.
High-end expertise and lots of technical tools
TechCelerated's certified cloud, OS and database experts deploy a pretested, integrated toolchain to speed up discovery and VM workload migration time.
01
PLAN – Cloud migration planning 
Not quite ready to start migrating, or wondering what you should migrate next? TechCelerated's cloud migration planning service helps you plan and visualize your eventual move, so you're always in an ideal position when go time arrives and the cost/benefit is better defined and understood.
02
MIGRATE – A broad range of migration options
From fixed-fee VM workload migrations, to complex data center moves to bare metal, TechCelerated's deep expertise, proven methods and broad set of cloud solutions can help accelerate your digital transformation.
03
MIGRATE – Data warehouse migrations
TechCelerated experts have years of experience migrating data warehouses to the public cloud, including Netezza or Teradata to Google BigQuery, Amazon Redshift, Azure Synapse Analytics or Snowflake.
01
MANAGE – InfraOps
Outsource your data center or Infrastructure as a Service (IaaS) operations to TechCelerated for peace of mind. Our SLA-driven, automation-supported site reliability engineering (SRE) teams can support your entire estate across on-prem data centers and any cloud.
02
MANAGE – FinOps 
Maximize the business value of cloud through visibility and control over your cloud spend. Eliminate the pain points of cloud computing and utility pricing through comprehensible predictable bills, multi-dimensional visibility into cloud costs, governing and optimizing cloud costs, improved cloud cost analysis and forecasting and building a culture of financial accountability.
03
MODERNIZE – Database re-architecting
Modernize any on-prem database to the cloud including Oracle Autonomous Database (ADB), Database Cloud Service (DBCS) and Bare Metal Server; Amazon Relational Database Service (RDS) and Aurora; Azure SQL Database, Azure Synapse and Cosmos DB; or Google Cloud Datastore, Cloud Spanner, Cloud SQL and Cloud Bigtable.
Enjoy the benefits of experience
Harness the breadth of TechCelerated's experience and turn it to your advantage across multi-clouds and hybrid clouds. From operating systems to applications and databases, we've done it all. 
Proven VM migrations at scale (and speed)
Don't reinvent the wheel
• TechCelerated's field-tested templates, processes, blueprints and automations get you to value faster.
Lean on our industry-leading expertise
• No matter your situation, our certified infrastructure and data experts have likely seen it and solved it before.
Always-smooth migrations
• Combine TechCelerated's DevOps approach with bulletproof project management and a proven knowledge transfer process.
Always stay compliant
• Our security posture ensures you're always on the right side of industry regulations and security best practices.